Thrilled by the peace-of-mind and protection she received, the business owner expanded her security system to further discourage criminals and prevent future break-ins.
CARLSBAD, CALIFORNIA – Small business owners face many challenges, but few can change an entrepreneur's fortunes as swiftly as a break-in or theft due to inadequate security. Julie Kline, owner of Alma's Café in Allenton, Wisconsin, recently learned the true value of security after her new 2GIG system helped thwart a break-in with an audible alarm and instant notification.
"Without our 2GIG security system, the thieves would have gotten in, and probably would have caused a lot more damage," Kline said. "After this experience, I'd tell any small business owner that they have a security system, no matter where they are located or what their business is. It's just about peace-of-mind, and knowing that your inventory is protected and that there is a strong deterrent for criminals."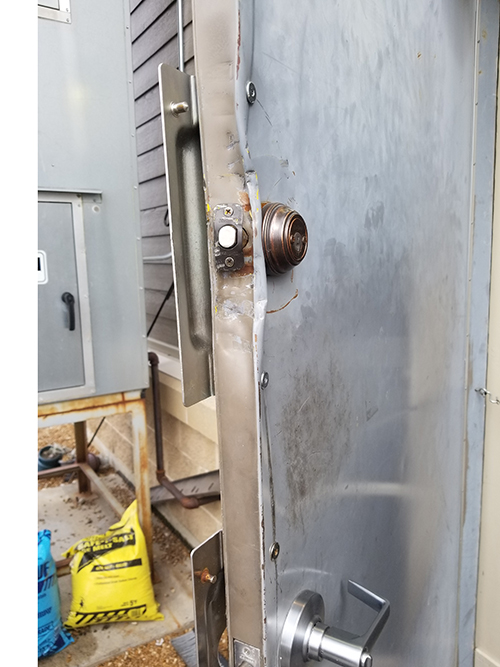 According to local security and low-voltage integrator Steve Garritson of H&S Protection Systems, Inc., the cafe's wireless security system uses a 2GIG GC2 control panel along with multiple 2GIG DW10 wireless door contacts and PIR1 infrared motion sensors. When unknown assailants attempted to pry open the café's kitchen door overnight, the security system sounded, and also alerted Garritson immediately.
"This is an excellent example of 2GIG stopping criminals cold in their tracks, before they even get an opportunity to do major damage," Garritson explained. "When the criminal tried to pry open the door, the 2GIG security system activated, turned on its audible siren and instantly notified us that there was a security issue. After receiving the call, Julie immediately went to the café, observed that the door was damaged, and called the police to come check the building."
H&S installed the wireless 2GIG security system less than a year before the break-in. After the incident, Kline decided to further increase the property's protection with a surveillance camera system that uses motion detectors to automatically begin recording motion clips.
"Afterward, I thought maybe if we had a camera we could have caught the people who did this," Kline added. "I'm thankful for the protection our 2GIG system provided, along with the help from H&S Protection and the fast response from our local police."
Garritson notes that this type of incident is fairly common and is precisely what security systems are used to prevent and mitigate. "Even though it started with a crime, this is a happy story," Garritson said. "I want every business owner to be protected and able to focus on their own success. Proper security protects assets, provides peace-of-mind and enables entrepreneurs to grow their businesses in spite of criminals' efforts."'
About H&S Protection Systems, Inc.
H&S Protection Systems, Inc. was formed as a result of combining two well-known Wisconsin security companies. Established in 1959, Horgan Sales & Service, Inc. was a premier provider of electronic protection systems throughout central and northern Wisconsin. Sentra Protective Systems, Inc. had been providing quality protection systems in southeastern Wisconsin since 1998. The two companies combined to form H&S on January 1, 2007. Today, H&S Protection Systems continues to provide high quality security, access control, video surveillance, and fire alarm systems for industrial, commercial, and residential applications throughout central and southeastern Wisconsin. For more information visit www.hsprotection.net.
About Nortek Security & Control
Nortek Security & Control LLC (NSC) is a global leader in smart connected devices and systems for residential, security, access control, and digital health markets. NSC and its partners have deployed more than 4 million connected systems and over 25 million security and home control sensors and peripherals. Through its family of brands including 2GIG®, ELAN®, Linear®, GoControl®, IntelliVision®, Mighty Mule® and Numera®, NSC designs solutions for national telecoms, big box retailers, value-added distributors, OEM partners, service providers, security dealers, technology integrators and consumers. Headquartered in Carlsbad, California, NSC has over 50 years of innovation and is dedicated to addressing the lifestyle and business needs of millions of customers every day. For further information, visit www.nortekcontrol.com.
Any other brand names and product names mentioned herein may be the trademarks, tradenames, service marks or registered trademarks of their respective owners.