New residence features bright airy spaces, panoramic views, walls of glass that blur the line between inside and outside, and peace of mind provided by 2GIG.
CARLSBAD, CALIFORNIA – When Andrew and Crystal Glen decided to build a new home just east of Albuquerque, New Mexico, they worked closely with a builder and architect to achieve the modern minimalist design and architecture they wanted. Even though they started from scratch to build their new "dream home," they decided to take something familiar with them: the reliable 2GIG® security system that they had purchased and maintained through the home security professionals at Link Interactive.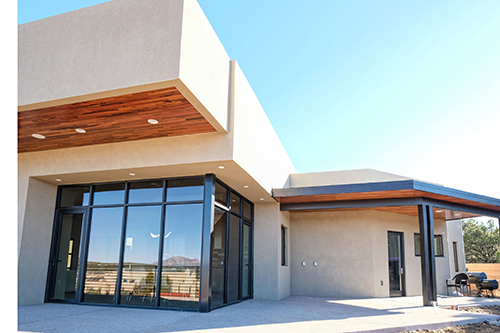 According to homeowner Andrew Glen, the couple had been so happy with their previous GC2-based 2GIG systems that they didn't need to consider other brands. They only wanted to upgrade the control panel to the more robust GC3.
"We knew from experience that 2GIG was reliable, really easy to use, and gave us all the functionality we wanted and needed," Glen explained. "It's important to us to have a system that's able to integrate easily and provide additional solutions such as climate and irrigation control. We moved several times over the past nine years and always chose to keep our 2GIG system. It's a small investment for the immense peace-of-mind it provides."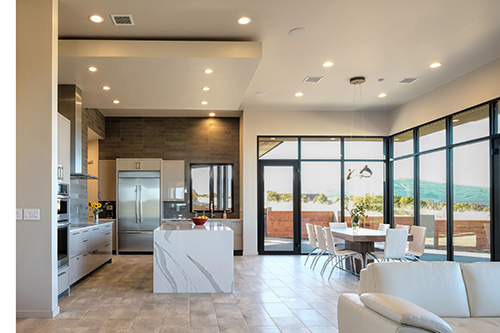 The Glens purchased their first 2GIG system from Link Interactive nearly a decade ago, and since then they have moved three times. Each time they moved, they were able to take some of the wireless components of the system with them to re-use at the new home, with system design assistance from Link Interactive. After having so much experience with the system, Andrew Glen was able to install some of the equipment at the new home himself, while also hiring a local low-voltage integrator to handle other important aspects.
"The Glens wanted a top-shelf system that isn't complicated or difficult to use, and we knew the 2GIG GC2, and now the GC3, was the perfect solution," said Debbie Elliott, Operations Manager at Link Interactive. "As they moved from home to home over the years, we've provided design and installation assistance to ensure optimal coverage, reliability and ease of use. As Andrew is quick to point out, the 2GIG system makes a home security evangelist out of anyone who installs or uses it!"
Built by Modern Dwellings, the home was completed in early 2018 and won three awards in the Spring 2018 Homes of Enchantment Parade, a Parade of Homes event organized by the Home Builders Association of Central New Mexico. Featuring a variety of glass and acrylic artwork, a moderately minimalist design, and an open-concept kitchen and living room surrounded by large plate windows that blur the line between indoors and outdoors, the home presents a truly modern aesthetic that the Glens say was inspired by the work of famed architect Frank Lloyd Wright.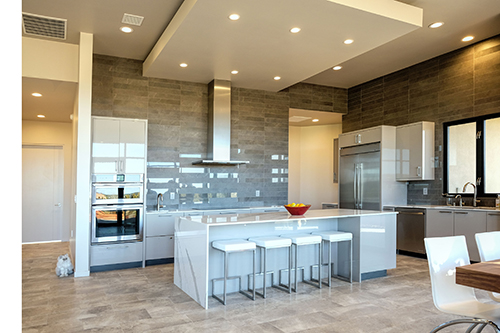 "With such care and attention put into our home, it was paramount that we properly protected it from any intruders or internal disasters like fires or leaks," Glen added. "We have 2GIG sensors that detect broken windows, fire, smoke, carbon monoxide, open doors and windows, and all of those sensors are connected to our GC3 panel for remote monitoring. In the coming year we are going to add electronic door locks, an interior camera to check on our pets, and irrigation, all of which ties into the 2GIG system and Alarm.com monitoring to give us complete peace-of-mind."
The Glens enjoy the ability to disarm the 2GIG system remotely when family stops by, and the connected thermostats also allow for remote management of climate. They often use these features to make adjustments after leaving or before returning home, as they both travel frequently for work and leisure. They also monitor their windows and doors with sensors, which they say provides peace of mind that all entrances are sealed and their pets are safe inside the home.
"The 2GIG system has always been reliable, so when we built this house the only change we really wanted to make to our existing system was to have the newest control panels in multiple rooms," Glen said. "We now have a GC3 panel in the living space and 2GIG touchscreens in the master bedroom and garage, so access and control are always close at hand. In fact, our 2GIG system is so simple and effective that we convinced my parents to install 2GIG at their home as well!"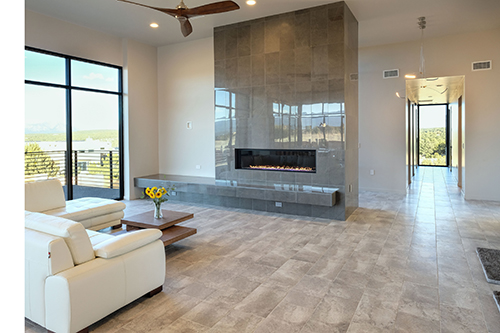 The security system uses a number of 2GIG sensors and modules to provide all the features the family requires: Connected to the GC3 main control panel are two secondary SP1 touchscreens, a SMKT3 smoke/heat/freeze sensor, a GB1 glass break sensor, two RE206 garage tilt sensors, and 13 DW door/window sensors. The three individual thermostats were provided by Alarm.com and are fully controlled and monitored through the GC3 panel and mobile app.
According to Glen, one incident he will never forget is when their shed at a previous home caught on fire. As Andrew rushed out to attempt extinguishing it using a hose, Crystal was able to quickly alert the local fire department through the 2GIG panel and Alarm.com monitoring service. They arrived shortly after and successfully put the fire out before it was able to spread.
"It's really about peace-of-mind," Glen concluded. "If someone is trying to enter our house, we are alerted. If there's smoke or carbon monoxide detected, we're alerted. In our minds, even though our community is gated, having instant notification of any events occurring at our home is a modern day necessity – especially when we have invested so much time and energy to design our dream home."
All photos courtesy of Etherdox Photography.

About Nortek Security & Control
Nortek Security & Control LLC (NSC) is a global leader in smart connected devices and systems for residential, security, access control, and digital health markets. NSC and its partners have deployed more than 4 million connected systems and over 25 million security and home control sensors and peripherals. Through its family of brands including 2GIG®, ELAN®, GoControl®, Linear®, Gefen®, Mighty Mule® and Numera®, NSC designs solutions for security dealers, technology integrators, national telecoms, big box retailers, value-added distributors, OEM partners, service providers, and consumers. Headquartered in Carlsbad, California, NSC has over 50 years of innovation and is dedicated to addressing the lifestyle and business needs of millions of customers every day. For further information, visit www.nortekcontrol.com.
Any other brand names and product names mentioned herein may be the trademarks, tradenames, service marks or registered trademarks of their respective owners.